Sherborne's Behind The Castle music festival cancelled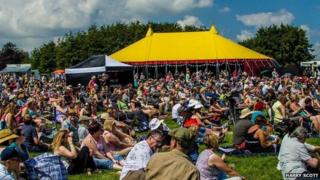 A music festival at Sherborne Castle that was due to feature acts including The Waterboys, Seth Lakeman and Show of Hands has been cancelled.
Behind The Castle had been due to take place in the grounds of the 16th Century building in Dorset on 13 June.
The festival's director, Ian Lyster, said "poor ticket sales" had led to its cancellation.
He said all ticket-holders would be fully refunded and that he hoped the festival would return in the future.
The first Behind The Castle festival was held last year.
Mr Lyster said: "We are extremely disappointed that the event will not be happening after a very successful opening year."
He said he had invested a lot in the event "both financially and time-wise".
"I don't want to be putting people in the position where I'm not going to be able to pay them," he added.
On Twitter, Mike Scott, of the Waterboys, said the group was "disappointed" not to be playing at the festival.
Sherborne Castle was built by Sir Walter Raleigh in 1594, and has been home to the Digby family since 1617.