Poole lifeboat crews mark 150 years of rescues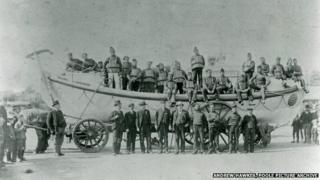 The work of the 150-year-old lifeboat station in Poole is being celebrated with an exhibition.
Set up in 1865 for £210, the station originally had 24 crew working with a 32ft lifeboat.
Displays feature the station's rescues, including helping bring British and Allied troops back from the beaches in France, during World War Two.
According to Royal National Lifeboat Institution (RNLI) figures, the station was its busiest last year.
The charity said to date the Poole crew had launched 5,095 times.
The exhibition at Poole Museum runs until 31 August.
It also features the charity's collection boxes spanning its 150 years, medals, photographs and kit.
A Tyne class all weather lifeboat and an inshore rescue craft are currently manned by its 30 crew members.
In 2013, 20 RNLI crew members from Poole were presented with the Diamond Jubilee Medal at the RNLI College.