Steven Cook, Poole driver, died in A37 crash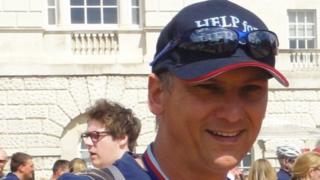 A council worker who died in a road collision was a devoted grandfather and son, his family said.
Van driver Steven Cook, 45, died in a crash three miles north of Grimstone on Break Heart Hill on Friday.
Mr Cook's family said in a statement: "Steven lived life to the full and was a loving son, brother, dad, granddad, uncle, cousin and friend to all."
Louiza Covey, who was a passenger in a Volkswagen Golf, also died in the collision. Four others were injured.
Mr Cook lived in Poole and worked for the Borough of Poole.
His family said: "He loved spending time with his family, especially his granddaughter.
"Steven was a keen cyclist and was a member of the Army Cadets when he was at school and enjoyed getting out and about looking at local military history.
"He also enjoyed his job with the council and took pride in helping to keep the local area clean and tidy.
"Steven will be greatly missed by all who knew him and loved him and will always be in our thoughts."
Mr Cook's van was in a head-on collision with a car on the A37.
The passenger of the van, a 37-year-old woman from Poole, remains in a life-threatening condition.
The driver of the car, a 28-year-old man from Newton Abbot, and two other passengers, a 28-year-old man from Exeter and a 26-year-old woman from the Bridport area, sustained serious life-changing injuries.
Sgt Joe Pardey appealed for the driver of a car that was travelling southbound at the time of the crash to come forward.