Dorset hospitals face changes in next five years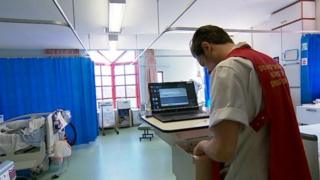 The public are to have their say on changes at hospitals in Dorset, which could include reducing the hours an A&E consultant is present at Dorset County Hospital in Dorchester.
NHS Dorset Clinical Commissioning Group (CCG) is to meet on 20 May to approve a consultation for changes to hospitals.
Plans involve developing major services in Bournemouth and Poole.
Dorset County Hospital would retain a 24-hour A&E but major cases would be dealt with elsewhere.
The changes relate to the number of hours a consultant would be available at the hospital, which could be reduced from 16 to 14 hours per day.
Under the proposals, a 24-hour consultant service would be available at either Poole or Royal Bournemouth Hospitals, which is not currently offered anywhere in Dorset.
Dr Forbes Watson chair of Dorset CCG said the travel times between Dorchester and Bournemouth and Poole had been taken into consideration.
"The vast majority of patients who currently receive services at Dorset County Hospital will continue to do so. A small number of the most serious cases will be asked to go to the emergency site in the east. It gives them access to the most specialised care which has been shown to give people the best outcomes."
Stroke care and emergency surgery in the Dorchester hospital would be reduced from 24-hour-a-day services to 14 hours-a-day.
The proposals would lead to the development of the Royal Bournemouth and Poole Hospitals - one would focus on major emergency services and one would specialise in planned operations. However it is still to be decided which hospital would take on which of the two roles.
Tony Spotswood, Chief Executive of Royal Bournemouth Hospitals Trust said his hospital would "grow in size" from 700 to about 1,000 beds if it were chosen to be the emergency centre.
"We are confident the site is such that could be done with the potential to extend services.
"We are also looking at seeing some outpatient services located to other parts of Dorset as we focus more on providing emergency and inpatient care in that scenario".
It is thought the changes could be implemented within five years.
The report sets out care being offered in the community.
This would include rehabilitation, procedures which need a local anaesthetic, such as mole removal and outpatient services, including removing a plaster cast.
Dr Watson said: "Doing nothing is not an option".
"The way we currently deliver care in Dorset isn't as good as it should be and isn't sustainable in light of changing and increasing needs from our growing and ageing population, and we have a shortage of specialist staff available for some services."