Shaftesbury cheese-carrying race won by hat-trick teen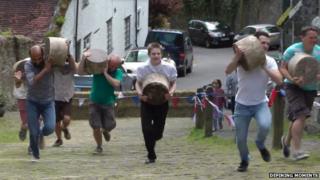 A teenager has completed a hat-trick of wins in a cheese-carrying race up a famous Dorset street.
The Gold Hill Cheese Run sees entrants run up the cobbled Shaftesbury street with a 55lb (25kg) cheese.
Barnaby Cox, 18, who has won the race twice before, set a record of 18 seconds across the 100-yard distance.
The event, based on activities of cheese traders in years gone by, began in 2012 as part of the town's food festival.
'Slightly mad'
Winner Mr Cox puts his successes down to "technique and power".
The race, in which 22 participants battled the steep route, was slightly hampered by rain, with one heat being called off.
Organiser Charlie Turnbull said it was due to safety concerns, as "with 25 kilos of cheese you don't want to be messing around".
He added that the weather eventually brightened up and the festival had turned into a "fantastic day".
He called it a tribute to a millennia of cheese making in the Blackmore Vale, with "slightly mad" participants racing with the locally-made cheeses which are 35cm (14") in diameter.
"Each one takes up to 500 pints of milk - that's a lot of effort from a lot of cows. But they are not very convenient to carry up a hill."
The street was made famous when it was used in a Hovis bread television advertisement filmed by Ridley Scott in 1973.
It depicted a boy struggling to get up the street on his bicycle to deliver bread to the sounds of Antonin Dvorak's New World Symphony.