Planned Dorset Jurassica dinosaur museum announces first sponsor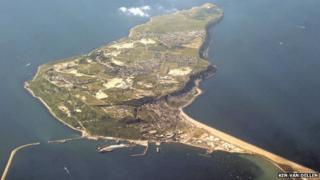 The charity behind a proposed £80m dinosaur-themed museum on the Jurassic Coast has confirmed it has a commercial sponsor, weeks after losing out on a £16m lottery grant.
Jurassica would be built in a semi-subterranean cavern in a 35m (114ft) deep quarry on Portland, Dorset.
Dorset brewery Hall and Woodhouse said it would provide "financial support" to the attraction.
Jurassica's chief executive Michael Hanlon said it was "splendid news".
Anthony Woodhouse, Hall and Woodhouse's managing director, did not disclose the actual amount being discussed but said there would be "significant investment" as Jurassica developed.
"It's an amazing visionary project," he said.
"We are delighted to be able to support a project which will benefit not only Portland, but the whole of Dorset."
Animatronic dinosaurs
The project was turned down for a £16m Heritage Lottery Fund grant last month.
Mr Hanlon said: "The lottery was a setback but we've always known that he bulk of our funding will be from the private sector.
"It is cash - which we need. But as important is the association - they are exactly the sort of company we want to be associated with. We hope they are the first of many such sponsors."
He said the project would move into the "full development phase".
"We will be open by 2021. That is my promise, to Dorset, the UK and to the people of Weymouth and Portland," he added.
Set under a translucent roof in a disused quarry, Jurassica would depict the coast 150 million years ago.
Sir David Attenborough is the project's patron and the Eden Project's Sir Tim Smit is its trustee. It also has the backing of the Royal Society and the Natural History Museum.
A model of the planned museum, complete with Jurassic seashore and animatronic swimming dinosaurs, was unveiled in February.