Melbury Abbas unstable slopes road reopening delayed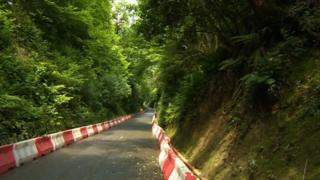 The reopening of a road closed because of fears its steep-sided banks could collapse onto vehicles has been delayed.
The C13 at Dinah's Hollow which links Blandford to Shaftesbury was shut in April 2014 for emergency survey work.
The council said a scheme to narrow the road and install traffic lights "to reduce the risk of a car being engulfed if a slippage happens" had overrun.
The planned reopening date at the end of June has been put back to 6 July.
Trees have been cut back to improve stability of the banks and barriers erected to narrow the road and keep vehicles away from the slopes which are at an angle of more than 60 degrees in places.
Once reopened, the 0.76km section of road will also have CCTV cameras to monitor the banks.
Drivers have to use a two-mile (3km) diversion, via the A350 Blandford to Shaftesbury road.
A long-term solution for the stabilisation of the slopes - which could include concrete panels and giant metal rods embedded into the soil to stabilise the banks - is being considered by the council.
The authority said the long-term repairs were expected to be completed next year.