Weymouth ferry terminal to be kept open for Cherbourg crossing plans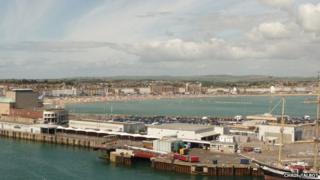 Weymouth terminal is to be kept open in readiness for a new ferry service from the town to Cherbourg in France.
The Dorset terminal is currently unused and was considered for closure after Condor Ferries transferred all services to Poole in March 2014.
The council's Harbour Board agreed to keep the terminal and is now negotiating with a ferry operator for crossings to start in April next year.
The twice-daily crossings would take just over two hours.
The Weymouth & Portland Borough Harbour Management Board report estimated the High Speed Ferries service would attract an estimated 266,000 passengers and 91,000 cars each year.
There would be two crossings per day over a six-month summer season using a single ferry, with a winter programme of two to four sailings per week.
Borough council brief holder for tourism, culture and harbour, Jason Osborne, said: "A short two-hour crossing is a fantastic asset for the town as a gateway to France to attract people from the west of England and beyond.
"It would potentially provide a welcome economic boost."
The recommendations will be considered by the borough council's management committee and then the full council at a later date.
High Speed Ferries said the new route would create 90 jobs in Weymouth and Portland.
The ferry company had looked at starting a service to France from Portland in 2010.