Melbury Abbas landslip road to remain shut 'for weeks'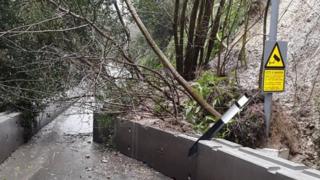 Work to clear and examine a Dorset road blocked by a landslip after heavy rain will take until the end of March Dorset County Council has said.
The C13 road either side of Melbury Abbas was cut off on 9 March after a large fall from the steep slopes at Dinah's Hollow.
The authority said 20-30 tonnes of earth and debris collapsed onto the road in the slip.
The road was shut for over a year in April 2014 due to its unstable slopes.
The road which links Blandford to Shaftesbury, reopened in July with CCTV cameras, a reduced width and temporary traffic lights in place.
A two-mile (3km) diversion, via the A350 Blandford to Shaftesbury road, is in place while the road remains closed.
Dorset County Council said the collapse had damaged concrete barriers recently installed to stabilise the slopes.
Long-term repairs to stabilise the banks which could see metal rods measuring up to 12 metres (39ft) being driven into the banks would cost an estimated £4m.