Criticism over Poole Hospital feeding tube delay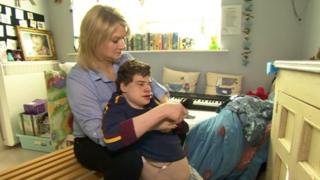 A disabled teenager from Poole was left in distress and without medication for almost 12 hours after hospital staff were unable to re-fit his feeding tube.
Callum Nardone, 19, who has cerebral palsy and epilepsy, relies on the tube, known as a PEG, for his nutrition.
His mother dialled 999 when he ripped it out in February, but medics were unable to help him until the next day.
Poole Hospital has apologised to the family. The Royal Bournemouth Hospital said it was investigating.
Callum's mother, Asher Nardone, said: "He was distressed, he was crying, we couldn't give him pain relief because that goes through his feeding tube."
'Educating staff'
She said a paramedic who arrived in a car told her there was no ambulance available but he called ahead, first to Poole Hospital and then to Royal Bournemouth Hospital, but was told there was no one available to see her son.
He was seen 12 hours later at Poole Hospital when, according to Ms Nardone, doctors struggled to fit a new tube because the hole had started to close.
A Poole Hospital spokesman said that whenever a PEG feeding tube is removed unintentionally, it should be replaced as quickly as possible.
A statement from Poole Hospital said: "We have spent a significant amount of effort in educating staff of the need for this, and the process by which this should happen.
"We are discussing the circumstances of Callum's care with his mother, and looking into why on this occasion this course of action was not offered."
Royal Bournemouth Hospital said it was looking into what happened on that night and said if there were any failings on its part, they would be taken very seriously.