Bridport Museum set for redevelopment after lottery grant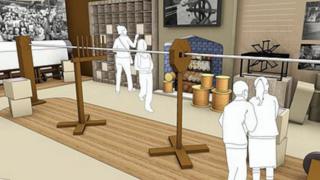 A museum redevelopment to highlight Dorset's rope and net making industry going back eight centuries is set to go ahead following a lottery grant.
The £840,000 grant to Bridport Museum will go towards repair work on the building in South Street, part of which dates from the 16th Century.
It is hoped that antique rope making equipment will be restored to working order for the new gallery area.
Curator Emily Hicks said the redevelopment was "very exciting".
The Bridport Dagger project - named after the Elizabethan term for the hangman's noose rope made in the town - includes new space for the museum's local history, geology and archaeology collections.
The museum holds a "nationally significant" collection of equipment relating to net and rope making.
Rope making can be traced back to the 13th Century when it was made for King John's fleet of ships.
Ms Hicks said: "We'll be able to create a fun and engaging museum which will be a real hub for the community."
The Grade II* listed building has been a museum since 1932 and needs a new heating system and repairs to windows and walls.
Work on the redevelopment is due to begin September, with the project completed in spring 2016.