'Environmentally friendly moorings' call to protect seahorses off Dorset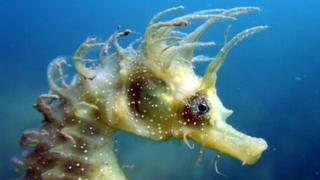 Fresh calls have been made for "environmentally friendly moorings" to be used off the Dorset coast in a bid to increase seahorse population.
The appeal by the Seahorse Trust comes after about 50 short-snouted seahorses were discovered recently off Bournemouth, which it described as "absolutely incredible".
In total, 20 were sighted off Dorset last year.
Trial moorings at Studland Bay were put on hold in 2013.
Neil Garrick-Maidment, director of the Seahorse Trust, said the recent find by a local fisherman had been particularly "fascinating" because many of the short-snouted seahorses were "sub-adults" or juveniles which suggested they had survived the winter and were about six months old.
In a bid to protect short-snouted and also spiny seahorses, which are found in the seagrass beds of Studland Bay, he said moorings which "stop dragging on the sea bed, stop destroying seagrass but still allow boats to tie out" needed to be used.
So-called environmentally or eco-friendly boat moorings often use bungee-type rope instead of chains, which Dorset Wildlife Trust (DWT) also said "scour" the seabed.
However, Mr Garrick-Maidment said the move was "controversial" as some boaters opposed the idea.
DWT had proposed trialling new moorings at Studland in 2013, but both the DWT and Seahorse Trust said plans were put on hold by the Marine Management Organisation (MMO).
In 2008, about 40 seahorses were recorded on the seahorse study site at South Beach, Studland Bay, but none have been spotted there since 2013, Mr Garrick-Maidment said.
He added authorities needed to do more to protect both short snouted and spiny species which were protected under the Wildlife and Countryside Act 1981 in 2008.
The MMO said it worked "within the parameters of the legislation" but added Studland was not in a marine protected area and therefore it had no powers to develop by-laws to prohibit activities in this area.
"The routine anchoring of yachts in Studland Bay is not an unlawful activity," it added.