Silverlake quarry holiday resort work begins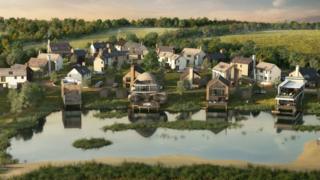 Work to transform a Dorset quarry into a holiday resort and nature reserve has begun.
Up to 1,000 chalets, lodges and an artificial beach are due to be built at Silverlake in Crossways, near Dorchester.
Developer Habitat First Group said up to 750 jobs could be created at the site.
Planning permission for 30 holiday chalets and lodges a year, a country club and spa, was approved in 2014.
Dorset Wildlife Trust has previously welcomed the development in principal as a means of protecting the area's natural habitat.
Species surveys have been carried out at the site to identify the key areas of ecological importance for breeding birds, reptiles, dormice, otters, water voles, invertebrates and bats.