Bournemouth A338 works: Motorists warned of evening closures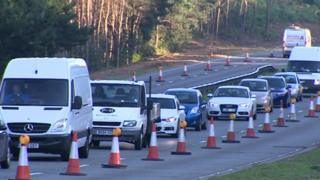 Motorists are being warned of further road closures as one of the final phases of work to rebuild the main route into Bournemouth gets under way.
The A338 will be shut for six nights in both directions between the Ashley Heath Roundabout and Cooper Dean Roundabout from 20:00 BST.
The evening closures are part of a £22m project that started in September.
The 40-year-old Bournemouth Spur Road is being rebuilt because of crumbling foundations.
The work, expected to be completed by June, involves a re-development of the route between the Ashley Heath Roundabout and Blackwater Junction.
The authority has advised motorists to "plan ahead".