Bournemouth cliff 'may have to be regraded' following landslip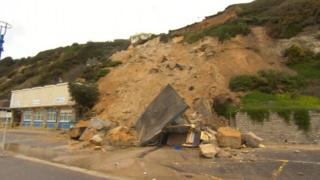 An expert has said a Bournemouth cliff may need to be made less steep after a landslip demolished a toilet block and damaged a Victorian funicular railway.
A stretch of the 30m-high (100ft) cliff in East Cliff, near the memorial for Red Arrows pilot Jon Egging, fell away on Sunday morning.
Peter Hobbs from the British Geological Survey said: "The cliff may need to be regraded to a shallower angle."
He said cliff defences and drainage could also prevent future falls.
Bournemouth Borough Council began a detailed investigation of the affected area on Wednesday, installing 40 specialist monitoring devices along an area of East Overcliff Drive 120m (400ft) either side of Sunday's landslip.
The cliff-top road will be shut for "several days" while the work continues.
'Very weak'
Peter Hobbs from the British Geological Survey who inspected the cliff on Wednesday said the collapse was probably due to rainwater.
He said: "The cliff formation is very weak because the clays swell and shrink, although cliff-top properties are probably safe for a few years.
"There have been measures taken in the past including defences at the base and drainage efforts along the top.
"A combination of defence and drainage is probably going to solve the issue, as well as possibly regrading the cliff which is fairly steep."
The East Cliff Lift, an Edwardian funicular railway built in 1908, was partially submerged by debris. A public toilet block at the foot of the cliffs was also destroyed.
Cracks started appearing on the promenade on Saturday, leading the council to close the area.
Chris Saunders, head of operations at the council, said: "The advice received is that further landslips are not likely to be imminent."