Diver dies following sea rescue off Jurassic Coast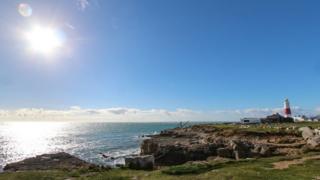 A diver has died after being pulled from the sea off Dorset's Jurassic Coast.
The 58-year-old man from Yeovil was airlifted from the sea off Portland with a suspected case of the bends shortly after 13:00 on Sunday.
He was taken to Dorset County Hospital by the coastguard helicopter for specialist treatment, but later died.
Dorset Police said next of kin had been informed and an investigation was under way.
Decompression sickness, also known as the bends, is caused by dissolved gases forming bubbles inside the body.
Symptoms include joint pain in the arms and legs, rashes and itching of the skin.