Bournemouth landslip: Damaged cliff railway carriages to be removed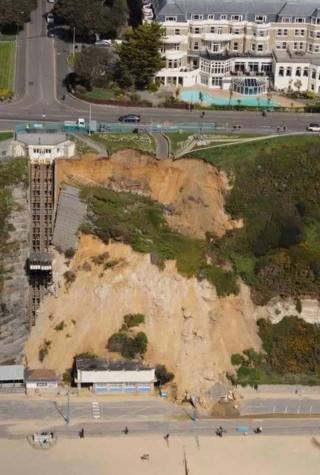 Work has begun to clear debris and remove damaged cliff railway carriages following a landslide in Bournemouth.
Rubble fell down the 30m-high (100ft) cliff in East Cliff on 24 April.
The partially engulfed Edwardian funicular carriages, loose boulders and 140 tonnes of rock-filled baskets, previously used to stabilise the cliff, will be removed.
Bournemouth Borough Council's Larry Austin said it was a "substantial operation".
"Our focus is to stabilise the cliff and remove any loose debris," he added.
He said they aimed to finish by the end of the month, before the Wheels Festival.
A temporary road closure will remain in place along East Overcliff Drive while the work is carried out.
A mobile crane is due to arrive on Thursday to remove any loose material from the slope and cliff railway areas, before the carriages on the 1908-built funicular are removed.
Mr Austin said: "Visually you can see there is obvious damage. Until we actually get these damaged carriages brought up to the top of the cliff for a full assessment, only then can we determine the long term future of the lift."
An abseiling team is being used to secure the carriages of the East Cliff Lift to the running rails ahead of their removal.
Work will also begin to create a temporary walkway on the beach next to the cliff lift site.
The focus will then shift to the bottom of the cliff from the promenade, where a block of toilets was crushed in the slip.
John Marsh, of Oceana hotels which runs three hotels in the resort, including the nearby Cumberland Hotel, praised the council for carrying out the work before the busy summer period.
But he said he hoped the road closures would be lifted as expected at the end of the month.
"It hasn't really significantly affected us yet but we are concerned, especially for the local trade for our restaurants across our three hotels," he said.
"The more local people that are aware of the road restrictions the more likely they are to stay away."
The council said an inspection of the cliff had shown that no further movement had occurred.