Portland quarry firm council claim settled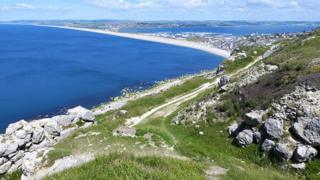 A quarry firm has said it has won more than £1m in compensation from Dorset County Council in a legal dispute over stone extraction on the Jurassic Coast.
Portland Stone Firms Ltd said the payment was for the removal of access to vast reserves of stone on the coast.
In 2009, the council modified existing planning permission to remove vehicle access through a designated Special Area of Conservation.
The two sides will meet later this month to discuss the way forward.
The company had claimed the modification order would cost it £18m as there was no longer safe access to land on Portland known as the "coastal strip".
Dorset County Council, which settled the case out of court, had claimed other access points were still available.
It added the Department for Environment Food and Rural Affairs (Defra) was reimbursing the undisclosed compensation paid, which the firm said would more than cover its legal costs of £1m.
The site contains large reserves of Portland stone, which has been used in buildings such as Buckingham Palace and St Paul's Cathedral.
The company's estates manager Tim Clotworthy said: "The reserves in the coast strip are about 140,000 cubic metres, enough to work for the next 30 years."
The council said it would meet the firm soon to encourage it to extract stone by mining where possible rather than open quarrying.
Penny Grigg from residents group Save Our Coastal Strip From Quarrying welcomed talks between the company and council but said the area "could still go under the diggers".
"If we had to agree to stone extraction, which is part of Portland's heritage, we would want it to be mining - but in a way that promotes the environment as an amenity," she said.