Boy, 13 rescued from Fleet Lagoon quicksand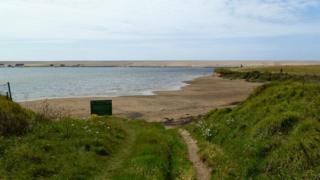 A teenage boy had to be rescued after getting stuck waist-deep in quicksand on the coast near Weymouth.
The 13-year-old had strayed from the coastal path onto the sand when he became trapped up to his waist for an hour at The Fleet Lagoon, close to Chesil Beach, just before 11:15 BST.
It took rescuers from Dorset & Wiltshire Fire Service (DWF) and the coastguard 15 minutes to pull him free.
A spokesman for DWF advised the public "to always stick to the coastal path".
He said it was not believed the boy was injured but was treated by paramedics at the scene as a precaution.