Bournemouth A338 reopens after months of traffic delays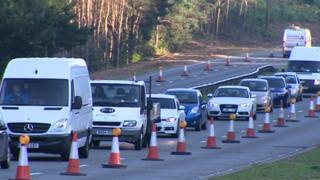 The main road into Bournemouth has fully reopened after nine months of roadworks and travel delays.
The £22m rebuild of the A338 spur road has involved full and partial closures of the dual carriageway.
The work has caused long tailbacks on the A338 between Ringwood and Bournemouth and caused traffic to back up on the A31 across the New Forest.
The last of the roadworks were lifted at 06:00 BST.
Preparatory work for the rebuild originally began in 2009 with work due to start in 2010 but a government spending review meant the scheme was shelved.
Dorset County Council said the new road had better drainage and an improved safety barrier.
Verges were cut back to encourage rare reptiles away from the work area.