Bournemouth Council pays homeless to leave with one-way rail tickets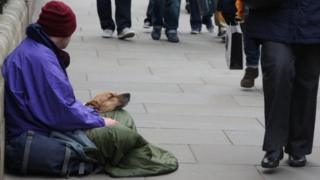 A local authority has bought one-way train tickets for rough sleepers to move them out the area.
Bournemouth Borough Council said nine people had been funded to leave in recent months.
The authority said it was part of a new £200,000 strategy using "assertive techniques and procedures".
Cabinet member for housing, Councillor Robert Lawton, said: "There's a chance they'll come back and that's something we'll have to live with."
In April, councillors were told a new homelessness strategy was being prepared in light of figures showing the number of people sleeping rough in 2015 had risen to 47 from the 2014 figure of 31.
Rough Sleeper Team
The authority said it had allocated an extra £200,000, covering the cost of two additional full-time staff to find solutions for rough sleepers including helping some to return to their home areas.
Lorraine Mealings, head of housing at Bournemouth Borough Council, said: "The rough sleeper team liaise with every single person who's out there and people from out of the area are actively re-engaged with the area they come from."
Bournemouth Borough Council faced criticism in December for playing loud music including bagpipes and Alvin and the Chipmunks at its travel interchange to deter rough sleepers.
The authority said its strategy to deter street drinking, begging and rough sleeping also included "frequent wake-ups, disruption and cleansing from the Rough Sleeper Team".
It said it funded a wide range of services for homeless people, including a specialist mental health worker and about 200 beds in hostels.