National Trust urged to save eroding Middle Beach cafe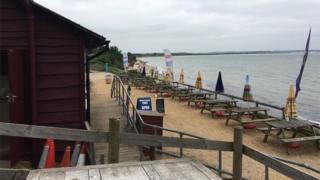 People living near a cafe at risk of erosion on a popular beach have launched a campaign to save it.
The building and toilet block at Middle Beach, near Studland in Dorset, are due to be demolished by the National Trust due to a risk of erosion and landslip.
Local residents have objected to the trust's policy of not renewing defences and allowing nature to take its course.
The trust said temporary facilities would be set up in the car park until a long-term solution was found.
Under the plans, the toilet block and Studland Sea School activity centre - which the trust says are at immediate risk - would be relocated.
'Million dollar view'
The cafe and ice cream kiosk, which are better protected, are to be demolished after their leases expire next year.
Andrew Parsons, who is campaigning to keep the facilities, said: "[The toilets] are a great asset for a busy bathing beach.
"The cafe has got a million dollar view... everyone loves it.
"The cost of demolishing all these buildings is fantastic compared with the cost of putting in simple sea defences."
Eugene Fraser, who has been using the beach since 1975, said: "We understand that erosion is affecting the coastline right around Britain... but you can, for the next generation or two, try and preserve things a little bit and don't have this knee-jerk reaction."
National Trust's South West coast and marine adviser, Tony Flux, said: "The best opportunity to secure a vibrant future for Middle Beach is to act by removing buildings and infrastructure on a phased basis as they become vulnerable and replace them in a location that is out of harm's way but where these facilities can still be provided for beach users."
An online petition against the plans has gathered 900 signatures in its first week.