Yellow Buses route changed after vandal attacks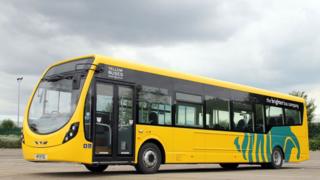 Repeated vandal attacks have forced a Dorset bus company to reroute one of its services.
The latest attack on Yellow Buses' 1A service in Somerford, Christchurch, saw a brick thrown through a bus window at about 10:00 BST.
No-one was injured but the company said it was "only a question of time" before someone was seriously hurt.
In April it temporarily suspended some services after four separate incidents.
Services resumed the following month but two further attacks followed, including the latest, which happened at the junction of Somerford Road and Dennistoun Avenue on a single-decker vehicle.
'Lives at risk'
Managing director Andrew Smith said: "Withdrawing services is the absolute last resort but we are not prepared to put the lives of our customers and our staff at risk.
"I very much regret that innocent customers will suffer as a result of withdrawing both daytime and evening services. However, this latest attack, in broad daylight, is the last straw.
"Our 1A service will remain on permanent diversion indefinitely until we are totally satisfied it is safe to run buses in Somerford again.
"We would urge anybody who knows who is responsible for this latest attack to contact the police immediately."
The service will now use the Christchurch Bypass between the Purewell Cross and Sainsbury's supermarket stretch.
Sgt James Offer of Dorset Police said: "We are dealing with the issue and a number of measures have been put in place by the local neighbourhood policing team, including enhanced patrols, close liaison with Bournemouth Transport and other agencies.
"Any detected anti-social behaviour has been dealt with using the powers available."