Poole council branded 'shameful' after parking decision delay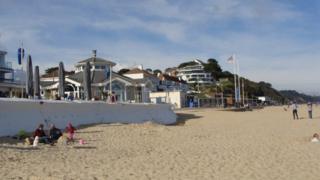 A council has been branded a "disgrace" by campaigners after it delayed a decision on new parking charges.
Protesters shouted "disgusting" and "shame", as Poole councillors deferred a decision on Tuesday.
The authority said it would review its plans to introduce on-street parking charges in parks and near beaches, after 9,000 people signed petitions.
Petition organiser Bob Lister said the "disgraceful" delay followed three years of debate at taxpayers' expense.
Shadow-boxing
He said councillors had voted against the plan in 2014, only to reintroduce it.
Mr Lister said: "It's like shadow-boxing. The opponent keeps on moving, we don't know what's happening."
He said 97% of respondents had objected to the charges, in the latest of two public consultations costing £80,000.
Fraser Ely, from Poole Harbour Canoe Club, said: "It's a huge drain on the voluntary groups to have to keep campaigning like this."
The borough council wants to introduce pay and display parking in roads close to the town's beaches and at some recreation grounds.
Three proposals are being considered, including charges in Sandbanks on Panorama Road, Salter Road, Grasmere Road, Seacombe Road and Brownsea Road.
The cabinet meeting approved new parking charges at Upton County Park.
Objectors are concerned visitors would be deprived of access to parks and beaches, and motorists would be forced to seek alternative free parking in residential streets, causing problems for residents.
Councillor Drew Mellor, cabinet portfolio holder for transport, said: "We have listened to the comments, and the existing proposals that were consulted on will not be taken forward. We will, however, be taking some time to review all the feedback with a view to bringing back proposals to cabinet later in the year."