Strike 'diminishing' First Dorset bus drivers' pay hike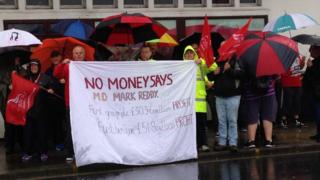 The chance of a pay increase for striking bus drivers in Dorset is "diminishing" due to ongoing action, a bus operator has warned.
A walk-out by more than 110 Weymouth and Bridport drivers claiming "poor relations" over a pay dispute is to enter a fourth week, the Unite union has announced.
First Dorset said it was operating about 90% of its normal services.
Both the firm and the union have said the strike is affecting the economy.
Marc Reddy, of First Dorset, said industrial action was "damaging", particularly in Weymouth at the height of the summer season.
He added: "The longer this goes on though, the more damage is done to everyone, and the likelihood of a pay increase at all diminishes."
He said the firm wanted to pay drivers fair wages but could not justify "unreasonable, inflation-busting, pay increases" which would be passed on to customers through a hike in fares.
Unite's Bob Lanning said although members wanted the local economy to prosper they could not afford to live on "poverty wages".
Weymouth and Bridport drivers earn £8.80 an hour, while drivers in Yeovil are on £9.50 an hour, and those at rival firms in Bournemouth and Poole earn almost £2 an hour more, he said.
He added striking drivers were losing "hundreds of pounds" in pay because of the dispute, which he said illustrated the "depth of anger" felt.
However, he said they were receiving financial support from Unite, as well as donations from members of the public.
First Dorset said pay rates were agreed locally between the operating company and union representatives.
The current round of strike action is due to end at 04:29 on 11 July, with further action expected from 04:30 on 13 July until 04:29 on 18 July.
Services are running on an emergency timetable.