Blandford Forum hairdresser 'murdered by obsessive ex-boyfriend'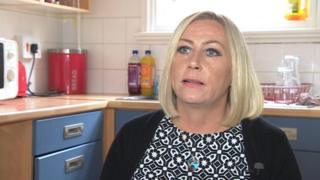 A hairdresser was stabbed to death at the salon where she worked by her "obsessive and manipulative" ex-boyfriend, a court heard.
Katrina O'Hara, 44, was stabbed at Jocks Barbers in East Street, Blandford Forum, Dorset on 7 January.
Her death came just days after 49-year-old Stuart Thomas, also known as George, of Salisbury Road, was arrested on suspicion of harassing her, Winchester Crown Court was told.
He denies murder.
The court heard Mr Thomas had "lain in wait" for Ms O'Hara and attacked her as she went for a cigarette at the end of her working day.
Nigel Lickley QC said he chased her as she fled "screaming, terrified and crying" into the salon, where he stabbed her twice in the chest with a large kitchen knife.
He also cut his wrists with the same knife.
Ms O'Hara had reported the married father-of-four to police just before New Year's Eve after he repeatedly confronted her and sent her "many messages" pleading for her to take him back, Mr Lickley said.
He was arrested on suspicion of harassment but released on bail pending further inquiries, and on the condition he did not contact Ms O'Hara.
'Somehow stabbed herself'
Mr Lickley told jurors she became "very anxious and fearful" of his "increasingly obsessive and frightening behaviour".
The pair became romantically involved in May 2015 but by the autumn Ms O'Hara attempted to end the relationship because she did not want to have an affair with a married man, the court heard.
Mr Lickley described how the the self-employed builder would repeatedly persuade her to take him back by threatening to kill himself.
This led to a violent confrontation between them where Ms O'Hara suffered injuries to her elbow and top lip, it was said.
Ms O'Hara also discovered Mr Thomas inside her home on two occasions after he had got in through an unlocked door and an open window, the jury was told.
On 27 December, he took an attempted overdose which led Ms O'Hara to report him to police,.
He was seen by a consultant psychiatrist who did not diagnose a mental illness but said he drank too much.
Mr Thomas claims he did not intended to hurt Ms O'Hara and produced the knife outside the salon to harm himself but she grabbed the knife and "somehow stabbed herself".
The trial continues.