Highcliffe TV show beach huts put on hold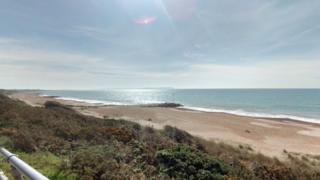 A plan to build beach huts on the Dorset coast as part of a TV competition has been put on hold.
Channel 4's George Clarke's Amazing Spaces proposed 12 huts suitable for overnight stays at Highcliffe.
Christchurch Borough Council withdrew an environmental assessment for the project after campaigners claimed the 4m (13ft) x 4m (13ft) huts would ruin the coastline.
An option to amend the application to day huts is set to be discussed.
The council had pledged £96,000 towards the huts in an area between Highcliffe Castle and the Cliffhanger Cafe, which were to have been designed by the programme's viewers.
The area is designated as a site of special scientific interest (SSSI) for its geological interest, requiring any development to have an environmental assessment by Natural England.
Natural England said the council had withdrawn a request to have an assessment carried out.
Louise Miller, strategic director at Christchurch Borough Council, said: "no decision" had been taken on the project's future but councillors would consider building day huts.
"Should we decide to continue the project with huts for day use, we would need to submit another application to Natural England," she added.
An online petition against the plans has attracted more than 1,300 signatures.
Jo Pollen, of the Friends of Highcliffe Beach and Cliffs, said the prospect of having huts which were only occupied during the day would present "the same problem" as overnight huts.
She said: "People are going to be all over the cliffs, disturbing the naturalness of it.
"We just don't want it here. It's unique in its appearance, people love it for what it is - please don't destroy it."
Campaigners are due to raise the issue at a meeting of the full council later.