Fire crews tackle Wareham landfill fire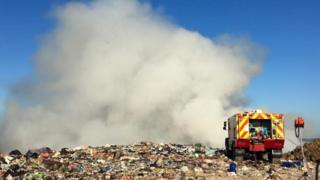 About 70 firefighters have tackled a blaze at a landfill site in Dorset.
The fire started at Viridor's landfill site at Trigon Quarry, near Wareham, at about 23:00 BST on Monday.
About 10,000 tonnes of refuse caught fire and people living nearby were advised to keep their doors and windows shut for several hours.
Dorset and Wiltshire Fire and Rescue Service said the fire had been contained and three fire crews would remain on site on Tuesday evening.
The plume of smoke was seen from as far away as Poole.
The site was the scene of a fire in April 2015, as well as in August 2014.