Murder accused 'can't remember' stabbing hairdresser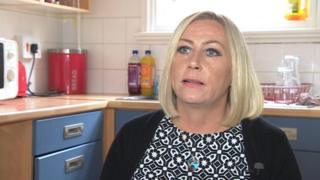 A man accused of stabbing a hairdresser to death has told a court he "can't remember" how she sustained her injuries.
Katrina O'Hara, 44, died from two stab wounds to the chest at Jocks Barbers in Blandford Forum in Dorset on 7 January.
Stuart Thomas, 49, denies murdering Ms O'Hara, with whom he had an "on-off" relationship described as "volatile".
Mr Thomas told Winchester Crown Court he went to see Ms O'Hara that day "to talk" and "to make peace".
Speaking about the day she died, the self-employed builder and married father of four told the court he went to the salon and saw her standing outside smoking a cigarette.
Mr Thomas, of Salisbury Road, Blandford Forum, told the court: "I was just trying to make peace and talk and she was just shouting."
The defendant said he followed her into the shop and put a knife to his own arm "just to make her see sense".
When asked how Ms O'Hara had sustained her injuries Mr Thomas said: "I can't remember nothing."
Nigel Lickley QC, for the prosecution, told the court: "I suggest you do remember and you're lying when you say you don't."
Earlier Mr Lickley said Mr Thomas had waited for Ms O'Hara in an alleyway before confronting her, chasing her back into the shop and attacking her with a knife.
He then ran away, cutting his own wrists as he did so, before throwing the knife on to a roof.
Mr Lickley described a "volatile" relationship, with Ms O'Hara trying to leave Mr Thomas several times, but each time he persuaded her to come back by promising to leave his wife or by threatening to harm himself.
The trial continues.