Cats shot in Blandford air gun attacks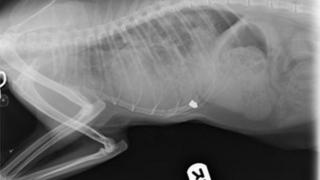 Three cats belonging to the same family have suffered "horrific injuries" after been shot with an air gun in Dorset.
Six-year-old black and white cat Sooty has been shot three times near his home in Kingston Close, Blandford Forum.
In the latest attack, on 15 July, the pellet narrowly missed his lung.
The RSPCA and the police have launched an investigation and warned anyone found guilty of deliberately injuring an animal could face up to six months in prison and a £20,000 fine.
Callous acts
The cats' owner, Charlotte Novak-Dubock, said: "At about this time last year Sooty came home with air gun wounds.
"Also, my other two cats, Tigger and Bertie, have been shot with these metal pellets in the past too and were seriously wounded on both occasions."
RSPCA animal welfare officer Jo Blackburn said: "Poor Sooty had such a near miss. In this latest attack the metal pellet skimmed his kidney and has narrowly missed his lung.
"Thankfully vets have been able to save Sooty - but it could've been so different. The injuries caused in cases like Sooty's are horrific.
"It is very distressing to think that people take pleasure in causing such horrific injuries to defenceless animals.
"These are deliberate and callous acts of cruelty."
Anyone with information is urged to contact Dorset Police or the RSPCA.