Business host plea for Dorchester's under-threat tourist office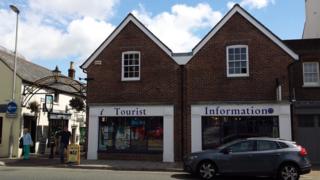 An under-threat tourist information centre in a Dorset town could be hosted by businesses, the region's Chamber of Commerce has suggested.
The association made its plea in light of proposals to close the Dorchester site or relocate it to the library.
Business leaders have raised concerns moving the office from the shopping area would mean it was no longer visible.
The district council said the proposals would save at least £99,000 a year.
'Visible and viable'
The centre, on the corner of Antelope Walk and Trinity Street, welcomes 170,000 customers a year and deals with more than 7,000 phone calls.
Dorchester Chamber of Commerce president Steve Bulley said it was important to maintain a face-to-face service and any move needed to be both "visible and viable".
He asked: "Is there a business owner out there that's in a more prominent place that has some space that could talk to the council and start some negotiations?"
West Dorset District Council is reviewing its four tourist information centres in Bridport, Dorchester, Lyme Regis and Sherborne, which currently cost £353,000 a year to run.
A consultation on whether to move the Dorchester facility to the library or replace it with an unstaffed tourist information point is expected to be approved on Tuesday, in addition to a recommendation to transfer Bridport's centre to Bridport Town Council.