Portland new homes would 'clog up roads'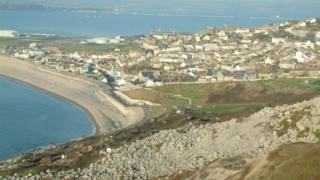 Residents fear proposals for new homes on two disused school campuses in Dorset would "clog up roads".
Isle of Portland Aldridge Community Academy's (IPACA) Southwell and Royal Manor campuses will be sold by the county council when the school moves to Maritime House next month.
The Homes and Communities Agency (HCA) has already expressed an interest in buying the land for affordable housing.
A petition against the plans has attracted almost 500 signatures.
Dorset County Council said once the land was sold any proposals would have to be sent to the borough council, and would be subject to a full planning application.
'Concrete jungle'
Portland resident Simon Avery, who set up the petition, said: "Putting more houses on the island is frankly going to clog up the roads even more.
"The people of Portland think enough is enough, we're full.
"You can't jam anymore houses on the island or you're going to start killing communities off, and building a house doesn't make a community."
Signatory Peter Bower added: "[There's] no infrastructure to cope with more housing and the one road on and off the island is already unable to cope with volumes of traffic."
Other concerns raised by the petition include the island "turning into a concrete jungle", while some people have suggested alternative uses, including dance and sports facilities.
A spokesman for the HCA said it was "exploring the feasibility" of the plans and had expressed its interest in buying the site to the county council, but added it was "very early days".