Man jailed for murdering niece who was also partner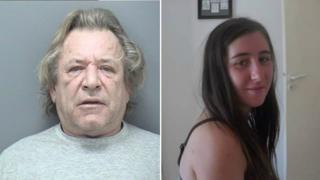 A man has been jailed for life for murdering a woman who was his niece and also his partner.
Hayley Wall, 25, was found with head injuries in a street in Bournemouth on 13 December and died nine days later.
A jury heard evidence suggesting she had been struck by a television and possibly also a door ripped from its hinges.
Christopher Wall, 58, of Shelbourne Road, was convicted by a jury on Thursday following a two-week trial.
Jailing Wall for a minimum of 14 years, Judge Keith Cutler told him: "You felt you were in love. This all happened because your relationship was volatile, sometimes marked by violence and aggression."
The judge said neighbours had heard Wall shouting, "is this how you want to be treated?", followed by repeated thuds.
Passers-by found Hayley with serious injuries in Charminster Road before she was taken to hospital.
The court heard that before falling unconscious, she told a paramedic: "My partner smashed a TV over the top of my head."
Later on the same evening, police found Wall asleep in bed with stab wounds to his back.
He told detectives he had been attacked by Hayley with a pair of scissors and had used reasonable force to defend himself.
Police found a damaged flat screen television in the house, as well as blood in the bedroom and bathroom.
A blood-stained door on a landing had been knocked off its frame and had two long dark hairs embedded in a crack.
Wall's barrister, Nicholas Haggan QC, told the court: "He is desperately sorry that Hayley died as a result of events that night. All he can do is apologise."
In a statement, Hayley's relatives said they would have acted to get her away from Wall if they had known about their relationship.