Portland prisoners 'developing drug problem in jail'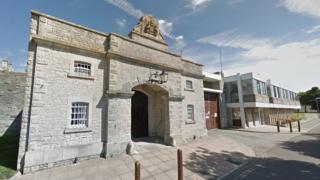 Prisoners have developed drug problems behind bars prompting a rise in violence at a jail, a report says.
One in five inmates have a drug habit they did not have before their jail term began at HMP/YOI Portland, HM Inspectorate of Prisons (HMIP) found.
It said violence was high against staff as well as inmates at the Dorset jail.
The Prison Service said a new strategy had been put in place to tackle "behavioural issues" created by the use of psychoactive substances like Spice.
Inspectors' findings have been backed by another report, by the Independent Monitoring Board (IMB), which said drugs had created a "toxic atmosphere" at the prison.
The HMIP report into the Category C facility, which accommodates 500 male adult and young offenders aged 18 and over, was carried out in May.
Inmates polled by inspectors said Spice was cheaper than tobacco since the introduction of a smoking ban in February.
'Fear of attack'
Chief inspector of prisons Peter Clarke said 64% claimed it was easy to get drugs inside - the second highest figure in England and Wales this year - with 20% saying their drug problem began in the prison.
"It was clear that the ready availability of drugs was contributing to the levels of debt, bullying and violence that were evident throughout the prison," Mr Clarke said.
There were 118 assaults and 73 fights recorded in the previous six months, which inspectors said was "high for the type of establishment".
Two prison officers from the facility have previously spoken of their fear of being attacked by inmates.
In a separate report, the IMB said "worsening conditions" at the prison, from April 2016 to April this year, made rehabilitation for inmates "impossible".
Inmate death
It said the ratio of staff to prisoners was "inadequate for the reliable delivery of a safe, decent and rehabilitative regime".
It added there was a "toxic atmosphere, both literally and metaphorically" due to "alarming levels of importation and use of drugs".
The IMB also noted there had been one inmate death over the last year at the prison.
Michael Spurr, chief executive of HM Prison and Probation Service, admitted the facility's positive work, including good relationships between staff and inmates - as noted by the HMIP - was "undermined by the decline in safety".
He said the prison was working to combat levels of violence and added more prison officers were being recruited.