Warning after fridge 'nearly hit climbers' on Portland cliff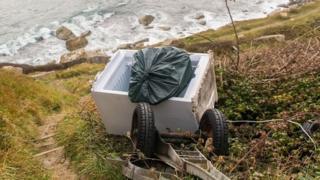 A fridge dumped over a cliff narrowly missed a group of climbers, it is claimed, prompting warnings fly-tippers are putting lives at risk.
Part of the domestic fridge narrowly missed a group as it crashed down the cliff at Southwell, Portland in Dorset.
Sam Parsons, who works with a group that protects climb sites, said fly-tipping was a "super-common" occurrence and was a danger to climbers.
Dorset County Council said such dumping was "dangerous and anti-social".
Mr Parsons said while bags of dog excrement were the most common things people threw over cliffs, he has also come across parts of a car and a trampoline.
He said after it was dropped over the top during a weekend last month, it was reported to the Dorset Bolt Fund - a volunteer group Mr Parsons works with that helps maintains climbing sites.
It then took him and a colleague more than an hour to haul the fridge back up the cliff using ropes.
"The fridge flew down and hit a trolley," he said. "With a dodgy bounce it could have hit the climbers. A fridge could kill somebody."
"It's hard to see what can be done, except that the public step up and say something when this happens. This was at 5:30 in the afternoon but no-one saw anything."
Gemma Clinton, of Dorset Waste Partnership (DWP), said there was "no excuse" for fly-tipping appliances since Portland's recycling centre accepts fridges free of charge.
"Dorset Waste Partnership will continue to thoroughly investigate all reported fly-tipping incidents and we will attempt to trace and prosecute anyone found to be fly-tipping on public land," she added.