'Exulting' Poole killer detained indefinitely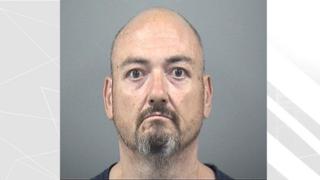 A homeless psychiatric patient who stabbed to death a friend who gave him a bed has been detained indefinitely under the Mental Health Act.
Ryan Merna, 29, was stabbed 32 times in the attack at his flat in Wessex Road, Poole, in August 2016.
Judge Keith Cutler said Paul Taylor, 51, had shown "exultation" when he learned Mr Merna was dead.
He said Taylor would be held in Broadmoor's high-security hospital for "many, many years".
A previous trial heard how a police officer, called to reports of a fight and screaming, saw Taylor leaving the flats with bloodstained hands.
She found Mr Merna lying in the hallway with a knife embedded in his chest.
The defendant was later assessed as being sane but suffering from a personality disorder at the time of the attack.
A jury at Winchester Crown Court acquitted him of murder and found him guilty of manslaughter on the grounds of diminished responsibility.
At the sentencing hearing the victim's father, Bernard Merna, said NHS staff had shown "horrifying complacency" over Taylor.
Reading a statement to the court, he said staff had known the defendant had not been taking his medication, was hearing voices and was carrying a knife prior to the attack.
Mr Merna, the owner of Compton Acres public gardens in Poole, said Taylor was "jealous of Ryan".
The pair had met as patients at St Ann's Hospital in Poole.
Taylor had previously spent 13 years in secure psychiatric hospitals.
Judge Cutler told him: "You are a very, very dangerous man. You will be in Broadmoor for many, many years - if not possibly forever in your life."
NHS England has commissioned an independent mental health homicide investigation.
Dorset Healthcare NHS Trust, which had been caring for Taylor, said it would "contribute fully" to the inquiry and had already held an internal review.
In a statement, it said: "Our thoughts and condolences continue to be with Mr Merna and his family at this difficult time. It is essential to understand all of the circumstances immediately before his death."