Fraudsters sentenced in Bournemouth over £1m VAT scam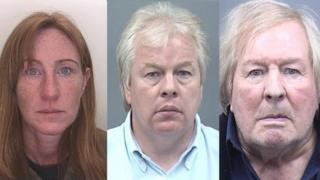 Three people have been sentenced for fraudulently claiming almost £1m in VAT rebates to buy luxury cars, designer clothes and a speedboat.
HM Revenue and Customs said the trio claimed to have spent £14m on building properties that never existed between 2009 and 2014 to receive the payments.
Father and son Brian and Jamie Colwell failed to attend sentencing at Bournemouth Crown Court on Monday.
Briony James attended court and was jailed for one year and eight months.
Arrest warrants have been issued for Brian and Jamie Colwell.
Jamie Colwell, 51, was the "ringleader" of the group and set up two companies, which listed his 74-year-old father Brian and 45-year-old former partner James as directors, HM Revenue and Customs (HMRC) said.
The scam was discovered after investigators found "not a single brick had been laid", despite the companies claiming VAT rebates worth £965,897 in relation to building properties.
HMRC said Jamie Colwell used the fraudulent funds to rent a property in Sandbanks as well as buying a Porsche 911 and speedboat, while his father spent the money on renting a four-bedroom house in Bournemouth.
James, a former dressage competitor, paid more than £100,000 for stabling her horses, a further £40,000 on designer clothes and £38,000 on cars.
'Sham companies'
Jamie Colwell, of Old Coastguard Road in Sandbanks, Poole, was sentenced to five years and three months in prison and disqualified from being a company director for 15 years.
Brian Colwell, of Hares Green, Bournemouth, was sentenced to two years and eight months in prison and disqualified from being a company director for 15 years.
James, of Bouverie Avenue South, Salisbury, was also disqualified from being a company director for five years.
Jamie Colwell and James both pleaded guilty to fraudulently obtaining the payment of VAT credit. Brian Colwell pleaded guilty to acquiring criminal property.
Richard Wilkinson, of HMRC's fraud investigation service, said: "These criminals set up sham companies solely to pocket public money to fund their lifestyles, blatantly stealing almost £1m from the public services we all rely on."
The public have been urged to contact police if they see Jamie and Brian Colwell.