Flood consultation for village on Essex-Suffolk border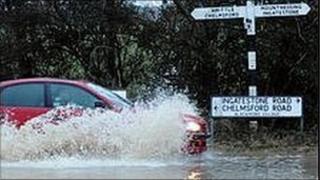 People living in a flood-prone village on the border between Essex and Suffolk are being consulted on a scheme to protect their homes.
A study has been carried out into why the area around Steeple Bumpstead is affected by flooding. It was inundated in 2007 and 2009.
The Environment Agency will show plans at the village's Congregational Church Lecture Hall on Saturday.
It will ask residents their views on the flood alleviation scheme design.
Agency flood risk manager Richard Houghton said: "We have been really pleased with the interest shown by the community so far in helping us achieve the best solution for the village."
The proposals for the Steeple Bumpstead scheme include increasing the capacity of Bumpstead Brook where it runs through the village and replacing various bridges.
The agency said Steeple Bumpstead currently has a low standard of protection against flooding and some houses have up to a 50% chance of flooding during the course of a year.
It is hoped the new scheme would help reduce this to a 4% chance.