Essex office fire 'caused by cigarette'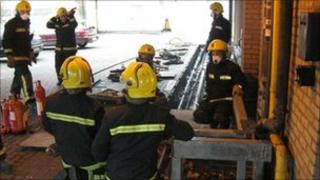 A fire in an underground electrical room of a five-storey office block was caused by a discarded cigarette, Essex Fire Service has said.
About 100 workers at Kingswood House, Baxter Avenue, Southend, had to leave the building after smoke and flames poured from a cable below the ground.
The fire started under the building's smoking area at about 1420 GMT and was extinguished by 1500 GMT.
Essex Fire Service said it was caused by a "carelessly discarded cigarette".
Station Officer Barrie May said: "The electrical room is under the building's smoking area, there were flames coming out of the grill when we got there.
"Because it was in the building electrical intake room we were unable to use water so crew tackled the fire with extinguishers.
"They quickly and efficiently dealt with a fire which could have caused a great many problems."