Canvey Island carnival to return after 11-year absence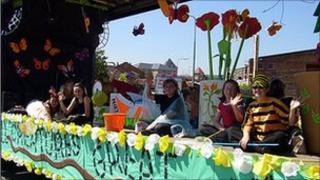 A carnival is to be revived at a south Essex town after more than a decade.
Canvey Island last hosted a carnival in 2000, before it ceased because of rising costs and dwindling interest.
The new event is planned to return on Saturday 6 August.
"We're a small island, we've got a captive audience here and it's about bringing the community together again," said Zoe Watson, the chair of the Canvey Island Carnival Group.
Mrs Watson said the committee were currently working to raise interest from potential entrants and sponsors.
"We've got a really good group of people on the committee and we're really enthusiastic," she told BBC Essex.
"Obviously we're in our infancy at the moment and the biggest hurdle to overcome is to get some money in the bank for capital expenditure.
"So we are looking to local businesses and traders in the hope they will also want to be involved.
"We're also looking at doing our own fundraising events."
She explained the first year of the revived event would be deliberately low-key, with no official carnival court.
"This year is obviously the first in 10 years so we are gathering enthusiasm from people," she said.
"But we'll be advertising and hopefully attracting local clubs and kids' groups [to take part]."
A carnival on Canvey Island was first held in 1927 and continued until the end of the century.