BBC Essex presenter performs stand-up for Comic Relief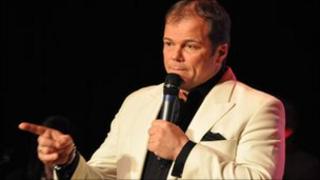 BBC Essex presenter Steve Cherelle had a go as a stand-up comedian at an event in Suffolk in aid of Comic Relief.
The country music host was one of seven presenters from BBC East who performed their own material in front of a paying audience on Wednesday.
"It was lots of fun, and we raised a lot of money on the night," he said.
Before taking part in the event, he attended a comedy boot camp in London, performing in front of professional comedians including Jon Culshaw.
"The boot camp was far more nerve-racking, than the Bury St Edmund's event, because the audience was real," said the 41-year-old.
"At the boot camp we had Jon Culshaw, Hugh Dennis, Jo Brand on a table all staring at us.
"They are the hardest people in the world to make laugh. You can't make comedians laugh."
'Laughed at everything'
Before the night the wannabe comics were anxious about having enough material to fill their slot.
"The great thing was, everyone was worried about [filling] five minutes on stage, but every single person overran by about five minutes," said the professional country singer.
"Once we were on, the crowd was so up for it because they knew we were not professional comics, and were gagging to see what we had on offer.
"They laughed at everything."
Winners on the night were BBC Radio Norfolk's David Webster and Jenny Kirk from Look East.