Saffron Walden Museum to loan objects to Australia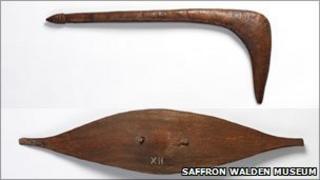 Ancient items owned by an Essex museum are being loaned to the National Museum of Australia for a major exhibition.
Saffron Walden Museum will be shipping four objects to Canberra in April.
Made by Aborigines, the clubs and shields are from the 1830s, and form part of a collection of objects from south-eastern Australia.
The items will be part of a display illustrating the history of Australia since European colonisation of the continent in the 18th Century.
The Essex museum has a significant collection of objects including clubs, shields, spears and boomerangs which were given to them by the 19th Century surveyor John Helder Wedge.
"He was directed by his father, who was from Shudy Camps near Saffron Walden, to collect items specifically for Saffron Walden," said Carolynn Wingfield from the museum.
"They're very important to Saffron Walden museum and to Australia."
Long term agreement
The National Museum of Australia have also provided funding to allow the items to be photographed and made available on its website for research throughout Australia.
There are no plans for the collection to be given to the museum in Australia permanently.
"It's agreed that we'll enter into longer term loan agreements, and into creating this virtual collection on the web so that people both sides of the world can get a chance to study them," said the museum's curator.
"That of course preserves the core collection here in Saffron Walden where the donor's family came from.
"I think the internet has great potential for helping us share the cultural items worldwide."
The items will be sent with a consignment of objects from the British Museum.
They will be on display until April 2016 when they will be returned.
Four further objects will then be sent to replace them.