Chelmsford volunteer amazed by Indian polio project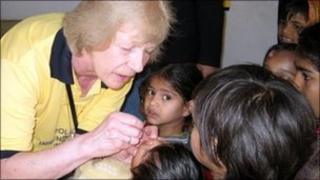 An Essex Rotarian has returned from a project in India to immunise 167 million children against polio.
Pat Gaudin, from Chelmsford, was one of 30 volunteers from the UK who flew out to India to assist with its National Immunisation Day in February.
The country is one of only four where polio is still endemic.
"Polio can move as quickly as a plane ride, so as long as it exists anywhere in the world, it could come back to us, so we need to end it," she said.
The trip was part of the Rotary International's End Polio Now campaign and coincided with the UK arm's Thanks for Life programme which aims to raise more than £1m towards eradicating polio.
'Appalling slum areas'
During her time in India the communications consultant helped to administer the vaccinations to children and mark the children's little fingers with a semi-permanent purple mark.
"It's literally two drops on the tongue. All children under five must have three doses to properly immunised," she said.
"At the same time they get finger 'purple pinkied' [to indicate they have been vaccinated] which stays on for a bit."
Mrs Gaudin said she was shocked by the conditions she found herself working in.
"We were in what they call the slum areas and it's pretty putrid," she said.
"They've got no sanitation, no decent sewage system, no water, no electricity. They really are appalling slum areas."
Aside from the conditions, she said she had returned home impressed by the work being done in India to combat disease and illness.
"The Indian Rotarians are doing this all the time throughout the year and are doing masses of other things," she said.
"They have mobile dental vehicles, they've got a blood bank set up, it's just so impressive what they're doing."
Mrs Gaudin, who has been a member of the Rotary Club of Chelmsford Mildmay for six years, believed the battle against polio was being won.
"It's only endemic now in India, Afghanistan, Pakistan and Nigeria," she said.
"In India, for example, last year they had 42 new cases, this year to date they've had one."
Rotary International have supported work by organisations including World Health Organisation and Unicef to try to eradicate polio since the mid-1980s.
Since then there has been a drop in the number of infections worldwide from 350,000 new cases in 1987 to less than 1,000 in 2010.