Chelmsford market traders concerned by car park closure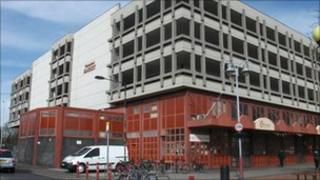 The temporary closure of a multi-storey car park in Chelmsford for safety checks has caused concern among market traders based on the site.
The 1,000-car capacity High Chelmer Car Park was closed last Friday for at least two weeks so concrete ramps and reinforcement bars can be inspected.
As a result, stall holders who trade on the ground floor are being relocated.
Some, however, have said it is not possible for them to move and they face having to close for the fortnight.
The decision to close the car park was taken by Chelmsford Borough Council following advice from specialists JP Chick & Co.
The car park, retail market and bus interchange at the 1970s building will be closed to the public until Saturday 26 March at the earliest.
Earlier this month the site had to be closed for a couple of days after falling lumps of concrete were spotted.
Councillor Ian Grundy, Chelmsford Borough Council's cabinet member for safer communities, said they had little choice but to close the site.
"Some very detailed tests and analysis has got to be done and unfortunately you can't get this done in days," he said.
"We need a good week to let the proper tests be done.
"It is serious and we are very concerned about it, but it is the right decision to make in the interests of safety."
'Unfortunate period'
Mr Grundy explained the authority was doing all it could to find suitable alternative sites for the stall holders.
The nearby Market Square, High Street and Backnang Square are possible locations.
One of the traders affected, Ian MacKay, praised the council for its efforts in finding alternative arrangements.
But he explained relocation was not possible for some stall holders.
"Some of the traders, because of how they trade, have got big stalls with lots and lots of stock on them," he said.
"It will be impossible for them to trade in Market Square because there's too much stuff to move."
Mr Grundy said the authority was "very conscious" of the stall holders' concerns.
"Obviously some of them need specialised storage spaces for the selling of food and cheese, etc," he said.
"So we are on the case and we will do everything we possibly can to cover the situation during this unfortunate period.
"But we've got to be absolutely reassured of the safety of the whole site."