East Anglian Railway Museum opens new heritage centre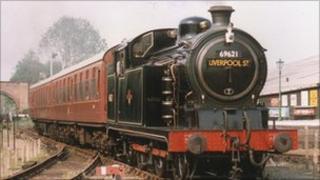 A new heritage centre has been opened at a railway museum in Essex.
The building was officially unveiled at the East Anglian Railway Museum based at Chappel and Wakes Colne station, near Colchester.
The BDJ Walsh Heritage Centre will include artefacts telling the story of railways in the region, including models, signals and nameplates.
The opening coincided with the 40th anniversary weekend of the museum's first open day.
The new addition to the museum is named after one of its founders and presidents, Bernard Walsh, who died in 2004.
'Wonderful models'
The building was formerly used as a post office at Colchester barracks.
Mark House from the museum said it would add a new dimension to its collection.
"Most of our museum has never been displayed," he said.
"Only about 10% of it prior to this was displayed. We're now pushing this figure up and we'll be rotating the items so in different years you'll see different items on display.
"[For example] we've got quite a few models which have not been on public display for many years and have been stored in other locations," he added.
"But now we can get them on display to members of the public who can see some of these wonderful models to show what these railway engines used to look like.
"Many of the originals were cut up, so all we're now left with is models of them."
'Human dimension'
The centre was opened by the director of the National Railway Museum, Steve Davies.
He praised the work being done by the Essex attraction.
"This museum is playing a critically important part in getting the railway story across to the modern generation," he said.
"Over the last 40 years they've turned effectively what was an area of complete dereliction into a quite fantastic railway museum.
"This building represents the next logical step, because you go to a railway museum with lots of big engines and carriages and so on.
"But what you need at a railway museum is something that actually tells the story and you'll go in there and pick up the human dimension to railways."