Essex police step up lorry checks over tiredness fears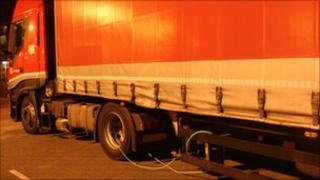 Safety checks on lorries are to be stepped up at night by police in Essex following concerns over crashes involving tired drivers.
Nearly half (46%) of fatal and serious crashes on the M25 in Essex in the past three years involved drivers who had driven too long or had been drinking, police said.
Officers will regularly carry out checks on drivers and vehicles.
Two lorries were clamped in Thurrock last week to ensure the drivers rested.
Speaking of the statistics, Essex Police casualty reduction manager Adam Pipe said: "These crashes have involved heavy good vehicles or vans going out of control and running into other vehicles, road signs or crash barriers on either side of the carriageway."
Police said some of the incidents involved drivers who had been drinking during overnight stops or ferry crossings.
During the 71 checks in Thurrock on Wednesday, Thursday and Friday, 10 mechanical faults were found, some drivers had been behind the wheel for a total of 280 hours on top of what is acceptable and £4,220 was collected in penalty notices.