St Osyth farm gets go-ahead to make vodka from potatoes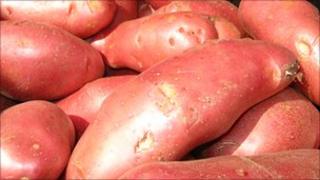 A farm in north Essex has been given the green light to create a micro-distillery to make potato vodka.
Blackwater Farm in St Osyth plans to convert one of its barns to produce the spirit from the vegetable, a popular production method in eastern Europe.
Tendring District Council approved the planning application from RF Clarke Farms earlier this week.
"It will start on a very small scale, but we hope to expand," said one of the project's backers, Jamie Baxter.
"Most vodka is made from grain of different types, whether it is wheat, rye or barley," he added.
"But there's a long history of making vodka from potatoes in Poland and it's catching on in America.
"Potato vodkas have got a lot more character and flavour and are a bit richer and smoother."
'Small scale'
The distillery at the potato farm in Lee Wick Lane has already obtained a licence to distil alcohol.
With potato vodka still relatively unknown in the UK, Mr Baxter explained it would start off as a micro-business.
"It is very much on a small scale, using handmade craft products, it's good fun as well," he said.
"The actual distilling process doesn't take an awful lot of people, although the way we're going to do it is less efficient than the big boys up in Scotland making bottles and bottles of whiskey.
"But there will lots of other people involved in the business of trying to sell the stuff, distributing it, looking after the accounts and so on.
"One of the guys in the team is involved in the export trade, so we see export as being a big part of it."