Probe into derelict building fire in Colchester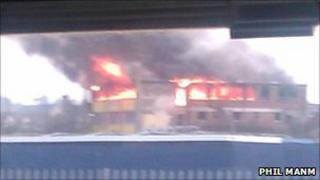 Investigations are being carried out to find the cause of a fire which swept through a derelict building in Essex.
More than 25 firefighters worked to put out the blaze at Bridge House, Hythe Quay in Colchester, which began at 1700 GMT on Thursday.
The second floor of the three-storey building was well alight. Four crews were sent to the incident but called for another fire engine.
The fire was extinguished within two and a half hours.