Diocese of Chelmsford chief executive sets out aims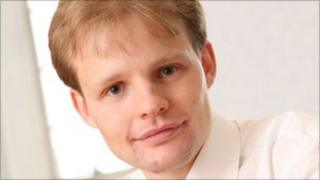 The new chief executive of the Diocese of Chelmsford hopes his experience of big business can help the Church.
John Ball, 32, who will take up the post in May, is currently head of strategy and asset management for London Underground.
"There's a lot I will bring over in terms of the management skills from the Tube world," he said.
"But this is an opportunity to do something that focuses on helping people in a very different way."
Mr Ball, who grew up in Manningtree, Essex, will manage the day-to-day running of the Anglican diocese, which is made up of 500 parishes in Essex and East London.
His role will focus on the administration and resources of the Church of England in the area, which has an annual turnover of £20m.
'Human stories'
He admitted he would have "a lot of learning and a lot of listening" to do once he embarked on the job.
"The bishop is the boss, I work to him," he said.
"But my role is to make sure the business side of the organisation, if you can call it that, runs as effectively as possible to support the clergy and ultimately the parishes."
He added: "We're all about the parishes and the individuals and it's the human stories that are the most important part of that.
"So the head office and central function has got to be as effective as possible to support that and not get in the way."
A member of St Mary's Church in Lawford, Mr Ball said he felt the diocese still played a relevant role in Essex life.
"When you think about it, we're going through the worst recession in living memory and the diocese broke even last year," he said.
"So the money is there and the support is there and let's not forget it's a growing diocese, the population is increasing, so ours is one of growth."