Southend United wins Football League community award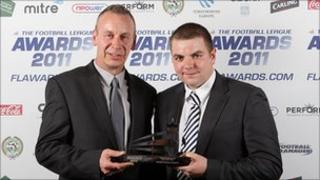 Community projects run by Southend United have won a national award.
The Essex League Two club was named Community Club of the Year at the Football League Awards for the second year in a row.
Steve Goodsell from the club's Community and Educational Trust said the team, which runs a variety of schemes, was "very proud".
"To come top of the tree out of 72 Football League clubs two years running is quite an achievement," he said.
"Every one of our small team care about the community and want to make a difference," he explained.
"We have to work hard to get the funds to do that, and it's the same for all charities in [that] it's becoming more and more difficult to get funds to do it.
"But it does inspire people to achieve their potential in life and that's what we seek to do through the methods that we use."
'Improve their health'
The trust won the award with its Blues Bodycare programme, which encourages people to take up a healthy lifestyle.
"It involves us going out to children, young people and adults throughout south-east Essex, working in partnership with organisations such as the NHS and local authorities," said Mr Goodsell.
"We deliver projects which help people improve their health and emotional well-being; not by playing football, but using football as the hook and the appeal."
He explained this was one of many schemes being run by the trust.
"There's something going on from breakfast clubs, right up to about 10 o'clock on most nights of the week.
"We have inclusion plans as well, giving children and young people things to do in the evenings.
"We do back-to-work programmes with young people, we work with the Prince's Trust, so there's a lot going on behind the scenes."